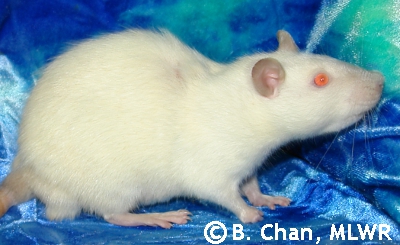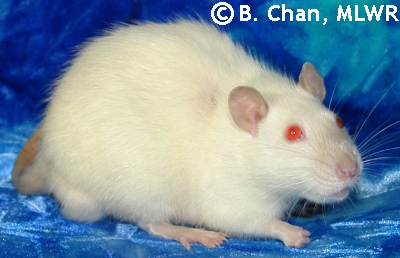 Pedigree


NARR:

11BVR0062/11F


Nickname:

Tabi


Color:

Russian Blue Point Siamese


Ears:

Standard


Coat:

Standard


Markings:

Self


Carries:

Mink, Satin


D.O.B.

07/26/11


D.O.D.

10/2/12


Cause of Death:

Euthanasia. Failing quality of life due to massive tumor in the pelvic area. Necropsy showed tumor was adhered to the pelvic wall and around several vital structures, and was therefore inoperable. Some slight redness on the lungs, but not necessarily abnormal - no abscesses or compromising of the lungs noted, lungs fully functional. All else looked normal on necropsy. Histopathology results for the tumor are pending.


Litter Page:

Sparkealis: BVR Corona Borealis x BVR Sparks at BVR


Breeding Status:

Retired Breeder - Bred once to BVR Adam Young, produced a litter, but none of the 12 pups survived.


Show Results:

Not yet shown


Notes:

When we found ourselves with the opportunity to work with russian silver, Tabit came up as an excellent little girl to help us with that project. She is an adorable little girl, with a super outgoing personality! She is usually at the cage door looking for attention, being very outgoing and curious, and showing almost no fear, even with all the changes and new things around. She has great, large, ears, and bright eyes, and if she develops the way she has so far is going to be a lovely girl - with her personality shining brightly over that! We are very happy to have her here, she's a very entertaining girl and is a delight to us every time we are near her!

Our little Tabi has had a rough start. We made a few attempts to introduce her and Anathema to Leela and Buttercup in hopes that they could live together, but while Anathema didn't run into problems, Tabit was bitten by Buttercup on the back, resulting in an injury and later abscess over her shoulder (requiring surgery to remove it), and by Leela on her inner front leg, which seems to have resulted in some nerve damage and keeps her from properly moving her toes. Trips to the emergency vet for care after the injury, and later visits to our normal vet have happened (and are likely to continue for a while) to help treat the problem. She has shown some movement in the foot, but doesn't seem to have full use of it. It doesn't seem to bother her at all, she has been climbing her cage, running in the wheel, and playing with Anathema, and our vet believes that since she has good circulation there, and hasn't done any damage to it since the injury, she is likely to continue to do well and adapt fine to not being able to use the foot properly. We will of course continue to monitor her. She also seems to have developed a skin infection over where the abscess was, but it is clearing up well with treatment. Despite it all, she's still a loving, happy, and playful girl, who accepts new friends into her cage without any concern!

As these injuries are not affecting her quality of life, or even her ability to behave and move normally, and are not a result of any genetic problems, we decided to breed her in hopes of passing on her wonderful traits. She is an amazingly sweet tempered girl, very laid back and friendly, while also being playful and fun. Even when she was injured her first thought seemed to be to get to us, and she just sat in our hands as we checked her over, both here and at the vet. She loves to play and snuggle with her buddies and is always hanging on the door and wall of the cage trying to say hi. She boggles all the time - when we talk to her, when she's hanging out with her buddies, when she's getting her picture taken, etc.

Sadly, Tabit's litter was not a success. She gained huge amounts of weight (140 grams!) and remained a sweet, wonderful girl throughout. She had a longer than average gestation, not giving birth until 24 days after breeding, and while she made a huge nest around the 12 babies, and happily groomed them, still being sweet towards us throughout, she apparently did not produce any milk, and the litter was gone within 24 hours. There is no history of lactation problems in her line, and has been no issue with her sister, so it was likely a freak occurance with her, but it does have potential to repeat, or be passed down through daughters even if a future litter were fostered with another mother. Because of this and the stress that is put on their bodies with pregnancy and birth, we have decided to retire Tabit as a breeding rat and let her live out the rest of her life here as a well loved pet girl. We are very sad not to get to see her wonderful traits passed down, but feel this is the best choice for her and for the generations that would follow.

In early May 2012 we noticed a large, fast growing mass in the inguinal area under Tabit's right rear leg. We took her to the Vet Teaching Hospital for a Fine Needle Aspirate which backed up our suspicions of a tumor. Our vet surgically removed the tumor on May 15, which looked to be a standard mammary tumor. Tabit apparently had some difficulty in surgery, but recovered well and healed up without too many problems, though her hair around her tail is taking quite a long time to grow back.

July 25: Despite hoping that it was just some swelling, it is seeming increasingly likely that Tabit's tumor has returned already, only 10 weeks later. It is a bit more to the side this time, which means it is less likely to interfere with her ability to urinate, etc as quickly as the previous occurrence might have. We are looking into potential options for it to be removed again, and possibly get her spayed at the same time, but are uncertain at the moment how feasible either action is. We may be trying her on some antibiotics and an anti-inflammatory in case it is some sort of delayed suture reaction, but that is unlikely, especially at the size it has reached at this point. No matter what, we will try to keep her as comfortable and happy as possible as long as possible, whether further surgeries are doable or not. She remains a very sweet and loving girl, despite all her challenges so far in her life.

October 2: Tabit's tumor had grown to an unmanageable size, and was getting sores from her insistence on continuing to use the wheel and run around as normal, despite her inability to use her back legs correctly as the tumor was in the way. She was showing some signs of discomfort when urinating or defecating. We made the decision to have her euthanized to spare her any further suffering. Necropsy revealed the tumor was attached to the pelvic wall, and was around and near many vital structures, which would have made removal impossible. The vet noted her lungs were slightly more red than usual, but there were no abscesses or sign of respiratory disease. All else looked normal. We are very sad to lose such a sweet girl so young, and especially after her ongoing battles with so many issues. We wish at some point she could've gotten a break and just been able to be comfortable, happy, and problem free. But we did as much as we could to try to help her, and she always seemed happy and upbeat, so we take comfort in knowing that she never felt particularly down despite all the difficulties she faced. We'll miss her strong and loving presence here.