Welcome!
NEWS
Our litters from Tree and Taiitsukun, and Teak and Chiriko are all in their permanent homes! Check our planned litters page for information on out upcoming litters - we're hoping to see some more adorable babies by the end of October!


We have test results from our 2013 annual RADIL blood test available. Click here to see the test results, as well as results from previous tests.


In October we attended the Fall 2012 RFL Rat Show!. We took home a few ribbons. Our biggest winner was BVR Anathema Device, founding female for our fawn line, who received 1st for Agouti Self Does, and then was awarded Best Agouti Doe. MLWR Gaia took 2nd for Agouti Self Does too! MLWR Nightwitch won 3rd in Agouti Self Does, MLWR Nibbins received 3rd in Agouti Self Bucks, MLWR Pyewacket received 3rd in Agouti Berkshire Bucks, MLWR Hera received 3rd in Non-Agouti Self Does, and MLWR Poseidon received 3rd in Provisional Bucks. Good job to all of them! Congrats to all the winners at other ratteries too!! We had a lot of fun getting to visit with people and see all the awesome rats! Looking forward to the Spring Show in 2013!

We have updated our planned litters page so feel free to take a look, check our policies and fill out an application to get put on the waiting list!

Please check our planned litters page for information on potential upcoming litters, read our policies page for information on adopting from us, and fill out our adoption application if you are interested in getting rats from us! Also check our links page for links to other breeders we recommend, as well as rescues.

You can now follow us on facebook by "liking" our Moonlit Waters Rattery page. We will post pictures and updates there, as well as on the website.
About us...
My name is Beth, I'm a CVT and I live with my husband in Champaign, Illinois, where we have our small rattery in our home. While we are just starting up as a rattery, I have been keeping pet rats for over 18 years, and have been actively involved in the rat community, and interacting with several excellent breeders for many years. With their guidance and support we will be starting a journey to produce our own lines of sweet, healthy rats.

Please read our Policies page for information on our adoption process, breeding policies, etc. Check out our Info tab to learn more about our rattery set up, our lines, how we make our selections, and other things about us.
Our primary focus will always be on exceptional temperament and healthy animals first, as these are far more important than any particular color, coat, or ear type. However, we do have varieties we hope to focus on within those goals. We will be striving towards producing Agouti rats with preference for saturated red and black colors in satin and satin rex coats, with dumbo ears, and Fawn rats focusing on the vibrant red-orange coloring in satin and satin-rex coats and dumbo ears. We will have other dilutes, ear, and coat types show up from time to time as recessives carried in the lines are brought out, and outcrosses bring in other types, but our goal is to mainly produce Agouti and Fawn rats, as well as work on the development of the satin-rex coat.

Our rats will always be a part of our family first, and breeders second, and any animal born here will always have a home with us if necessary for their entire lives. We seek out medical attention from qualified exotics veterinarians whenever needed for the sake of our animals, and will not cull healthy animals or overbreed our rats. We believe that quality is always better than quantity, and will work to have that be reflected in our actions and our animals. Please stick around to watch us grow and develop!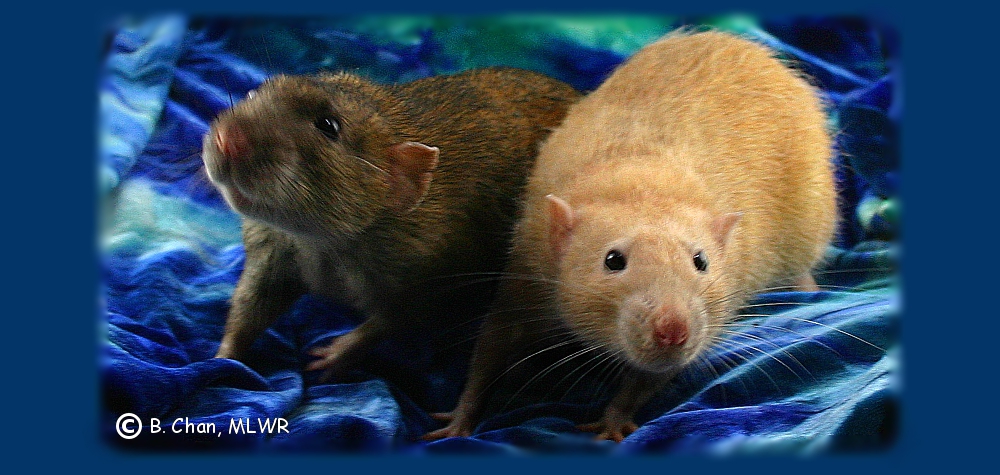 Also check out and read through this page on Breeder 'Red Flags' or the signs to tell you if someone may not be a good, responsible breeder. Its a very well written page and has tons of important things to consider to make sure you get your animals from someone who is doing the right thing, and breeding for the sake of improving the animals, rather than someone who isn't on the right track, or may be in it for less favorable reasons. You should use these guidelines to help you develop and idea of what sort of person you want to work with to get your new rats. Every breeder you ever work with should be evaluated using guidelines like these, even if they are recommended by someone who seems good themselves, to make sure they fit the profile of someone who you want to work with and trust.
For anyone out there who thinks that breeding any animal sounds like a good way to make some extra money, please take some time to read this page on the Average Profit/Loss On a Litter. It was published by the AKC in reference to dogs, but the same idea can be applied to any animal, especially animals requiring not just basic care but also socialization time, such as rats. It is an eye opener for many people who don't necessarily consider all the cost in time and money that is involved in breeding and raising a litter.