Current Litters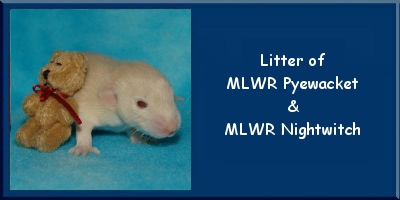 Litter of MLWR Pyewacket and MLWR Nightwitch
Born: March 2, 2013
Number of Babies:13
Available for Reservation: March 30, 2013
*2 girls and 3 boys AVAILABLE*
IMPORTANT: Risk for severe respiratory problems in line. We are working to select away from this but babies are at higher risk than those from unrelated lines.


Please check our Planned Litters page to find out about possible upcoming litters. Also check my Links page for other breeders as well as some rescues, and visit Petfinder to find some rats looking for homes in your area!