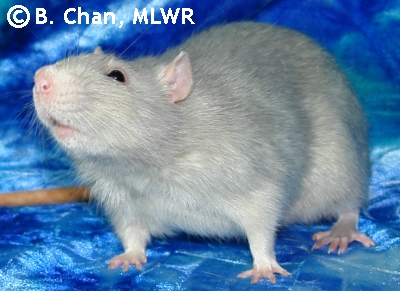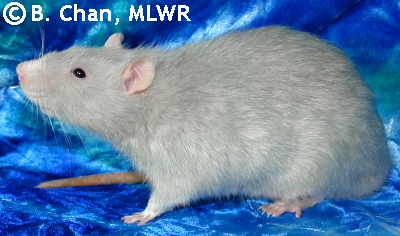 Pedigree


NARR:

11BVR0045/01M


Nickname:

Adam


Color:

Russian Silver


Ears:

Standard


Coat:

Standard


Markings:

Self


Carries:

Possibly mink, possibly RED, possibly satin


D.O.B.

06/10/11


D.O.D.

10/1/12


Cause of death:

Respiratory failure, necropsy showed lungs massively covered in abscesses, pus in lungs. This is likely a similar issue to what affected his brother Newton here, and his brother Warlock at BVR. All other organs looked healthy and normal.


Litter Page:

Dawnbird: DAZL Mockingbird x BVR Dawn Treader at BVR


Breeding Status:

Current Breeder - had a litter with BVR Tabit, 12 pups born, but none survived.


Show Results:

2011 RFL Fall Show 3rd Non-Agouti Buck
2012 RFL Spring Show Did Not Place


Notes:

A change in plans of a friend breeder surprisingly made Adam available to us, and has given us the opportunity to help try to get russian silver re-established amongst our group and keep it available for those who are working with it, and hopefully help us in our future plans for russian silver burmese and sables. He is a beautiful russian silver, with stunning color and a lovely build, and we are very excited to get to have him here to enjoy and get to work with this variety. An unexpected but not unwelcome opportunity for us here, one which we had thought was years away! Adam was a bit shy and cautious at first but still seems curious and is friendly, and over time has become more confident and outgoing. He's now often the first one at the cage door to see what is going on, and usually tries to hang onto the door when it opens to be the first one out to be able to check things out. He now tucks whenever we pick him up, and is one of our most 'tuck and dangle' guys! We are definitely looking forward to working with him and seeing him grow to his potential as a spectacular boy!

Our first attempt at a litter from Adam unfortunately did not succeed - while he did his part well, and 12 babies were produced, the mother did not seem to be able to produce milk, and all of the babies were lost. We are reworking plans, and hope to give Adam another chance at being a father in the future!

Shortly after his brother Newton died, Adam started showing signs of stress. This was attributed to losing his brother and at that point sole cagemate. After attempts at intros with 2 different groups (both his previous group he was in with Newt as well as a group of Newt's kids and a couple other teenage boys), we finally had some success introducing him with Corza's 2 young sons, which worked out very well since they were happy to cuddle with him and be his buddy. However he continued to go downhill, losing weight, and started showing respiratory symptoms. We had him on anti-inflammatory meds, a bronchiodialator, and nebulizing, as well as supplementing his calories with extra treats, ensure, baby cereals and baby foods, and pedialyte. But he lost his battle with a similar respiratory failure experienced by his brother Newt here, and his brother Warlock up at BVR a short time after Newt, and he died in the early hours of the morning on October 1st. When we saw him in the wee hours before he died, he had Chichiri snuggled up protectively next to him and Poseidon resting on the other side, so we are comforted in knowing that they snuggled with him in his final hours, keeping him warm and comfortable, and giving him companionship. A necropsy showed that he had massive abscesses in his lungs, as well as some pus, but that all his other organs looked normal, which is consistent with the findings for Newton and Warlock. We are very sad to not have had the chance to have more time with him, and have offspring of his to carry on his sweetness and handsomeness, but we can at least take comfort in that it means he didn't pass on any potential genetic respiratory weakness to any others. RIP dear Adam, we'll miss you.