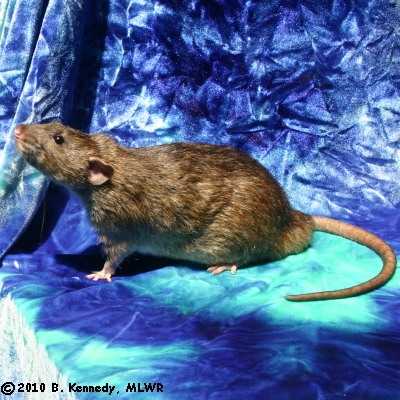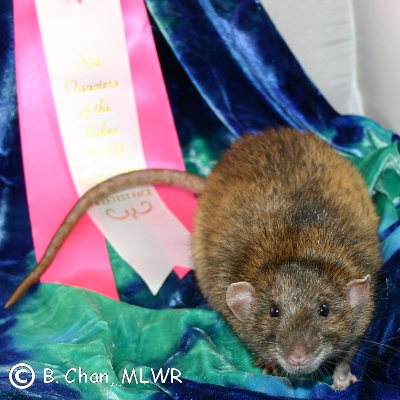 Pedigree


NARR:

09BVR0081/07NM


Color:

Agouti


Ears:

Dumbo


Coat:

Satin


Markings:

Self


D.O.B.

6/18/09


D.O.D.

4/14/11


Cause of Death:

Mycoplamic Pneumonia, Respiratory Failure


Litter Page:

The Poplsacks at BVR


Breeding Status:

Pet Only, Never Bred


Show Results:

RFL 2010 Show - Pet class: Won Sweetest Face


Notes:

Peep is a sweet, floppy, kissy boy! He is quite a tucker and loves to give everyone kisses! He's a super friendly guy who got to spend a while being the 'babysitter' to a bunch of youngsters, but he seems to have taken it in stride! He is a gentleman who tries to keep people clean, and loves scritches and snuggles. We are so happy to have him here!

Peep is a laid back guy who loves attention, and is usually one of the first rats to peek out from a hammock when people are around - but he prefers to wait for people to come to him for love and attention when he can so that he can lounge in his hammock, get scritches and give kisses all at once!

RFL 2010 Show: Peep was entered into the pet competition at the RFL 2010 rat show and while he was a candidate for Most Relaxed, he ended up winning the 'Sweetest Face' award instead!' Real men wear pink' - and he has a bright pink ribbon now! He was a total doll and seemed to enjoy getting judged.

Peep had some heavy breathing episodes (not labored, more exaggerated) first noted around the time of the RFL 2010 show, but until about a couple weeks before his death these were seen mostly during times of increased excitement or stress (such as when traveling to a show!). A vet visit less than a week before his death to check on him heard no signs of heart problems - no murmurs or arrhythmias, and his lungs sounded slightly harsh, but no wheezing, bubbling, crackles, or other sounds. Suspecting something like asthma, assumed to be due to scars/myco abscesses from potential sub-clinical past infections, he was started on a bronchodilator to help ease his breathing, and it seemed to help a bit. Peep started showing very, very, slight and subtle signs of potential hind end weakness at around 21 months, but nothing that even remotely impaired him or was to a level of really being able to be noticed except when he was casually or slowly moving around (when he wanted to go he got everything moving just fine!). He also had some weight loss starting around 21 months, but not extreme, and he continued to love his treats and food. Peep was found dead curled up on the floor of the cage unexpectedly, though with the breathing issues cardiac or respiratory problems are suspected.

A necropsy and any necessary histopathology was performed by our veterinarian, and found that his lungs were severely abscessed, with almost no viable tissue. He had been at the vet just days before with no evidence of respiratory infection (no lung sounds, etc), but the abscesses had developed enough to prevent proper gas exchange in the lungs. His heart looked normal and healthy, with no signs of heart disease. There was some post mortem kidney necrosis seen, but nothing that looked abnormal or like it had happened prior to death. Samples were sent to the University of Illinois Veterinary Medicine Diagnostic Lab for histopathology, and the findings were supportative of mycoplasma being the cause of the lung abscesses.

We'll miss you Peep, wish we had more time with you, but we're happy for every day we had, you were a super sweet and loving guy!