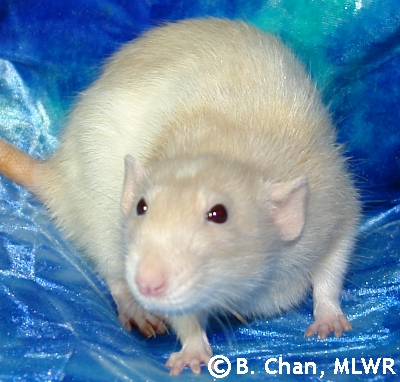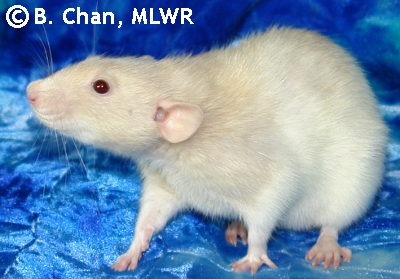 Pedigree


NARR:

11BVR0014/13F


Color:

Unknown Mink Merle Dilute


Ears:

Dumbo


Coat:

Standard, carries satin, harley


Markings:

Headspot Varigated


D.O.B.

2/23/2011


D.O.D.

4/27/2013


Cause of Death:

Respiratory Failure, necropsy showed less than 5% of functional lung tissue remaining, many pus filled masses in the lungs, cytology showed pus but no other cells (not cancer), and the veterinarian suspects mycoplasma.


Litter Page:

The Splendman at BVR


Breeding Status:

Future Breeder


Show Results:

2011 RFL Fall Show - 2nd Marked Non-Agouti Doe



Notes:

Leela is an adorable little girl who was born at BVR as part of a litter to test the Harley gene. Despite having a full pedigree on her, her color was originally something a of a mystery. She originally seemed to be a very light, red eyed pearl merle, but pearls generally have dark eyes, and she has no parent to have gotten the dominant pearl gene from (her mom is a mink based color and not a pearl, and both paternal grandparents are also minks, and not pearl). Her coloring is also way too light for the pearl standard! Being a red eye dilute was also unlikely (though she may be some sort of havana dilute) because, while her mom does appear to be a havana, neither of her paternal grandparents are, so she could only have one copy of the gene passed to her. We had planned a test breeding with BVR when Leela was older so we can try to solve the mystery of her coloring, but later decided that it was best to keep her as a pet only, despite the questions about her genetics.

Leela is a bit more shy than her sister, but certainly can be outgoing when she wants to be! She is a treat stasher, grabbing as many treats as she can possibly carry (often trying to balance more in her paws at the same time) to hide elsewhere in the cage, and immediately coming back to find more! When out, she prefers to stay with people rather than wandering to explore on her own, she's a little snuggler like that! She loves to groom and give kisses, getting under people's nails, and being a little rodontist! She's always sniffing and licking everything, investigating what she runs into, and is often the first to find any new tidbits or treats in the cage! She can be quite a little goofball, and is very active and always fun to watch as she runs around and plays in and out of her cage.