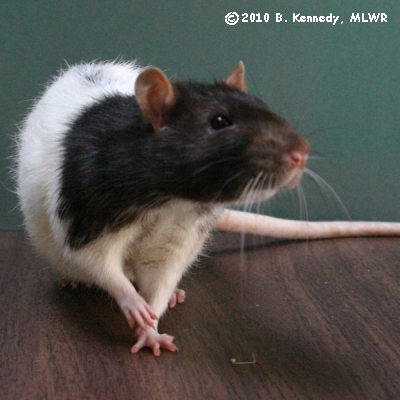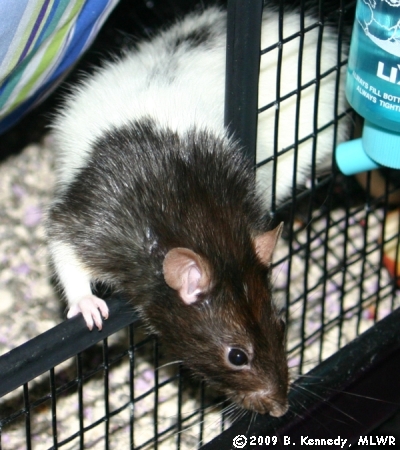 NARR:

None - rescue/pet only


Color:

Black and White


Ears:

Standard


Coat:

Standard


Markings:

Hooded


D.O.B.

02/2008


D.O.D.

01/01/2011


Breeding Status:

Pet Only, Never Bred


Show Results:

Not Shown



Notes:

Harry is one of the graduates from the Veterinary Technician program at school, like Yakko, Wakko and Dot, but from the year before them. He's not a big user of exercise wheels, but enjoys shredding and destroying things like hammocks, and running around in his cage, and out when he can. He's a handsome guy with little spots of color on his belly too! Harry and his friend Ron came to spend their senior time with us, to avoid stress caused by the cats and dog at their previous home, who won't leave them alone now that they have all moved into a new place. Their owner was concerned for their safety and well being, so decided to find them a new place to live. They are both older guys, but in great shape and very sweet! Harry really seems to enjoy being a ham for the camera! Harry had a bout with glaucoma, which resolved with topical treatment, though it seemed to leave him without sight in that eye. It never slowed him down though. Harry suffered from hind end degeneration, and lost quite a bit of weight in his later days, but was active and curious to the end. He'd climb the sides of his cage and jump onto my arm, or grab treats excitedly, even without his back legs working well. He died at home with me, peacefully, while sleeping in my lap. He showed mild respiratory symptoms along with the HED and weight loss towards the end, but no significant problems were seen at home.