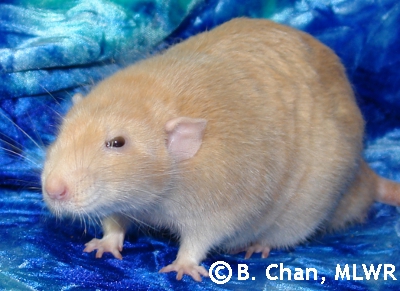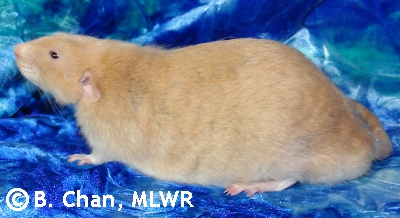 Pedigree


NARR:

101019/NM


Color:

Russian Fawn


Ears:

Dumbo


Coat:

Standard


Markings:

Self


D.O.B.

06/28/10


D.O.D.

12/24/12


Cause of Death:

Euthanasia due to respiratory failure.


Litter Page:

Carebears: Skidaddle x Imma Be at DAZL


Breeding Status:

Pet Only, Never Bred


Show Results:

RFL 2010 Fall Show: Did not place, 2011 RFL Fall Show - Did Not Place


Notes:

He was the biggest boy of the litter early on, and is looking absolutely adorable! We picked the name from the carebear theme based on my childhood favorite carebear. :D He is a sweet and kissy boy even early in his arrival here, and very outgoing and playful. He loves to popcorn around and wants to be the center of attention at all times, even trying to climb onto cameras, etc. Nothing seems to phase him and he is always fast to be at the front of the cage, or halfway up the door, looking for adventure and attention! He will tuck somewhat but prefers to climb up to shoulders to investigate ears, hair, mouths, etc...he wants to know what is going on everywhere! He gives lots of kisses and still continues to zoom around, hand wrestle, climb the door of the cage for attention, and be a loving, snuggly guy.

RFL 2010 Judges Notes: Very Good condition and temperament. Very Good to Good ears. Good substance, coat, head, body, color, and markings. Good to Fair tail. Remarks: Coat is a bit soft for a male. Nose is a bit long. Ears not wrinkled, but slightly tubular. Tail is a bit thin. Coat is a little blue, with silvering.

Our sweet Bedtime aged quite a bit in his last year or so, but continued to be an outgoing, loving old man with us - not showing any real signs of any significant problems. He has the occasional wheeze/sneeze and had slowed down quite a bit, but mostly seemed bright and clear and happy. We found him one evening in a state of extreme respiratory distress, gasping and showing cyanosis already, and made the decision that due to his age and the severity of his distress an emergency euthanasia was the best option for him. We take comfort in knowing that up until that episode he was still his happy and outgoing self, and that he had reached an age that surpassed one of his parents and some of his littermates. Rest in peace, sweet old man.